What is Instant TV Channel?
Instant TV Channel is a cloud-based system that generates custom software consisting of a Roku channel "Package" file and associated "Configuration" files based on your specifications.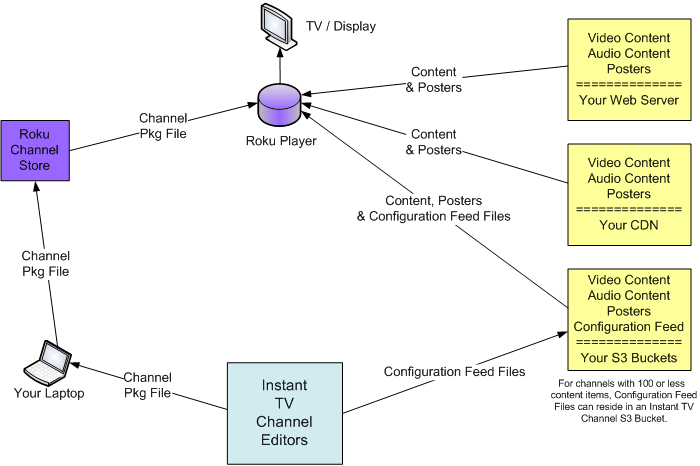 When building their first Roku channel, developers often find that the dozen or so guides, manuals and reference documents provided as part of Roku's SDK are somewhat intimidating. How certain Brightscript functions and Roku components work is not always easy to understand. Example channel code is provided in the SDK, but how to integrate the example code into a working channel can be quite challenging.
Instant TV Channel eliminates these low-level and time-consuming details, shortening channel development time and easing maintenance after the channel is in production. Knowledge of the Brightscript programming language is not required. For example, Instant TV Channel has a simple WYSIWYG tool to allow the developer to position logo artwork at the top of the channel screen, and an editable tree diagram is used to create the channel layout.
With Instant TV Channel most changes can be made without repackaging and uploading the channel, making the turnaround time between design iterations very short. As soon as a change is made to a channel in an editor, it appears on all Roku players that have the channel installed. Instant TV Channel significantly reduces the time it takes to go from an initial concept to a completed channel in the Roku Channel Store.
What Special Features Does Instant TV Channel Provide?
Instant TV Channel offers a variety of special features that can be incorporated into your Roku channel:
Are Free Accounts Available?
Yes! We want channel builders to understand how Instant TV Channel can help with their channel's design and maintenance, so we offer free Roku channels for testing and for personal use. A single Instant TV Channel account can contain multiple Roku channels, or you can create separate accounts for each channel. If your Roku channel needs passwords, linking and registration, in-channel purchasing, or video advertisements, you'll need to upgrade your free channel to a paid channel.
Where Do I Store My Video Files?
Because Instant TV Channel does not host your video files, you are not locked in to using an expensive proprietary storage system. You have the flexibility to choose the streaming provider that has the features and pricing that are most appropriate for your project. Here are a few of the content streaming providers currently supported by Instant TV Channel:
Support for other storage providers will be added in the future, although any web server, storage provider or CDN which permits content to be streamed using a standard http:// or https:// URL may already work correctly with Instant TV Channel.
Additional information about video content storage providers
What improvements will be added? When?
Several new features are in the planning stages, and the suggestions that are received from Instant TV Channel users will determine which are implemented first. Please let us know who you are and what you want by sending your feedback to or call us at .